Everything about Paris photo sessions with Fran
What is a Paris photo session ?
A Paris photo session is the ideal occasion for you as a couple profoundly in love to celebrate your connection in the most romantic city in the world. In the same time it is an opportunity to create story telling images featuring you in the insanely attractive Parisian backdrops.
What kind of Paris photo sessions do we cover ?

Paris photography sessions depend on the type of your celebration. We cover Paris engagements, surprise proposals, honeymoons, anniversaries, family portraits, elopements, Paris weddings and just for fun photo sessions. Take a look at our Portfolio if you haven't done it so far to get more insight in our work.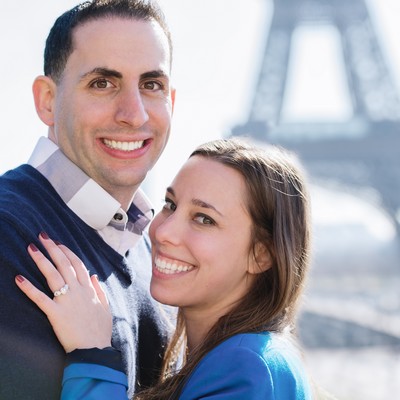 "How could my fiancé have planned an international photo shoot without ever seeing the place or meeting the photographer? Easily, because Fran was accommodating, patient, efficient, and above all professional. Fran gave excellent direction and pose ideas, and when it was clear we had zero creativity he knew exactly how to make us feel excited and at ease. If you are considering hiring Fran, stop considering and just do it. He will go above and beyond to make your dreams come true." Jessica & Michael
How do we know you are the real deal ?

We are passionate about everything we do and we poor our heart into the experience of taking your photos in Paris. We understand that you are coming from abroad and perhaps it is even your first time in Paris. Having a photo session with someone you don't know can raise some doubts. This is why we are here for you, during every step of the process. From the first contact, through the preparation, until the day of the session and after, until the final delivery of your Paris pictures. Oh, and we like to have fun !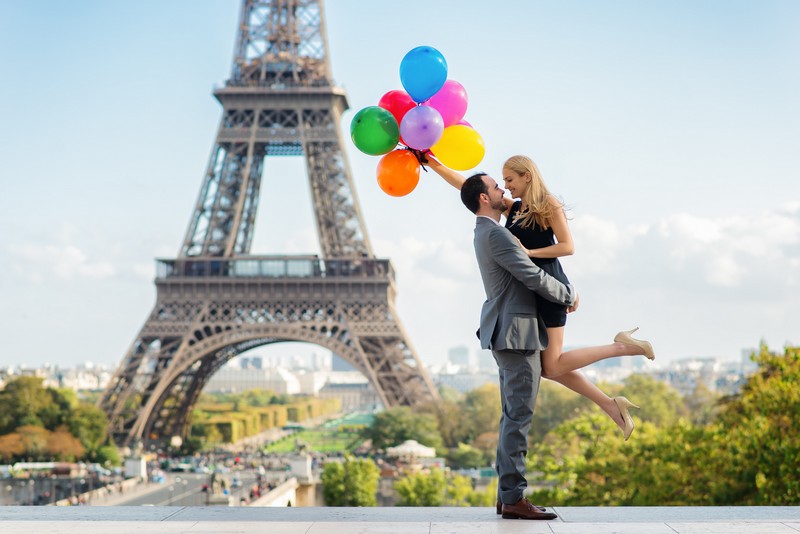 We spend so much time communicating, that there is no wonder we end up becoming friends with every couple we photograph. You always have a person to rely on, to answer your questions and give you suggestions to perfectly prepare your Parisian adventure. We are available by e-mail and by Skype: fran.boloni
Still not convinced ? Take a look at what our real couples had to say about their experience of taking photos with us on our Facebook and ourYelp page.
What packages do you offer for photo shoots in Paris ?

We have designed our collections to fulfill perfectly your requests.

"Prêt à porter"


– 1 hour of photo shoot
– Your favorite selection of 20 beautiful images
– Photos are fully edited and print-ready
– 1 of your favorite locations in Paris
– Starting time "late morning"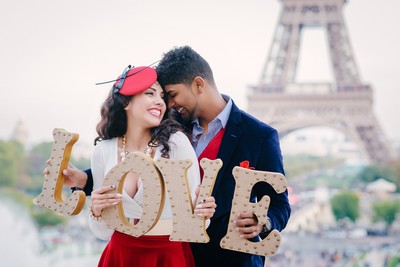 For photo sessions longer than 1 hour we allow you to build your own collection.

"Sur mesure"


– As many hours as you wish
– Your selection of 20 beautiful images per hour
– Photos are fully edited and print-ready
– As many favorite locations as added hours
– Starting time of choice: "sunrise" or "sunset"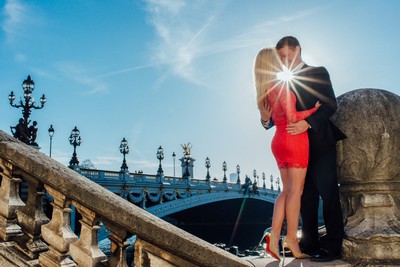 For example, if you wish to book a 3 hours photo session (our most popular collection), we will be taking photos in 3 distinct locations and you will receive 60 edited pictures.

If you are looking for just a few beautiful photos that will remind you of your trip to Paris then we have the perfect inexpensive solution for you.

"L'Essentiel"


– 30 minutes of photo shoot
– Your favorite selection of 10 beautiful images
– Photos have minimal editing and are print-ready
– Location: Eiffel Tower
– Starting time "late morning"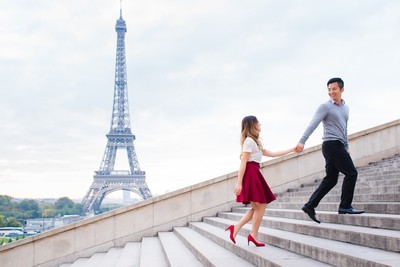 If you are ready to find out more about our availability and our prices, please send us a message with your request and we will answer your in a few hours.
Valuable ADD-ONS
Night photos
For night photo sessions (starting at sunset) we hire an associate who helps us with external lights and keeps our belongings secure. This way the night photo shoots require an additional associate fee.
Extra editing – Can I select the pictures that are going to be edited ?
We usually take 300-400 photos per hour because we are having so much fun and we prepare perfectly. You will have the opportunity to select which photos to edit, the ones you love the most. However, if you'd like to have more photos edited than the ones already included in your package, we can edit as many as you wish.
Black and White images
Paris is timeless and black and white images are iconic for the most beautiful city in the world. If you wish to have your photos in Black and White also, we have a solution for you.
High Res non edited This is for the client who are absolutely in love with their Paris photos and they want them all. We can have all the photos taken during your photo session, edited with light retouching and sent them to you in high resolution. This way you can edit them further yourself or print them and cherish them forever.
How will the photos be edited ?
Post-production will be applied on every photo delivered. This involves contrast enhancing, colors improvement and that personal touch specific to The Paris Photographer.
How do we receive the edited pictures ?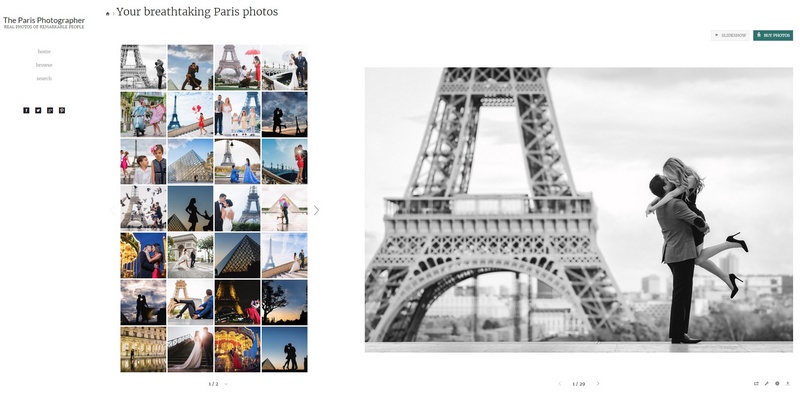 All the edited pictures from your Paris photo session will be delivered through a password protected and elegant online gallery that you can share with your friends and family. If you wish to print the photos (and we highly encourage you to do so), you can download all high resolution files by the press of a button. Even better, you can order prints, canvases and other keepsakes directly from your online gallery and have them delivered to your door. If you'd like to see how an online gallery looks, feel free to check out this sample gallery we have prepared for you.
That is awesome, we want to book you !

You like our photos and you are wondering if we are available for the dates you are staying in Paris. Send us a message and we will answer you in a couple of hours.

Once we confirmed our availability and we decide on a spot together, your next step will be to pay a deposit of 50% of the amount of the photo session. We use a very simple and secure payment process so that you can focus on starting planning your dream photo shoot in Paris.
Useful information to prepare your Paris photo shoot
What is the best time to take photos ?

Sunrise ? Sunset ? Night ? What is the best time of the day for your Paris photo session ?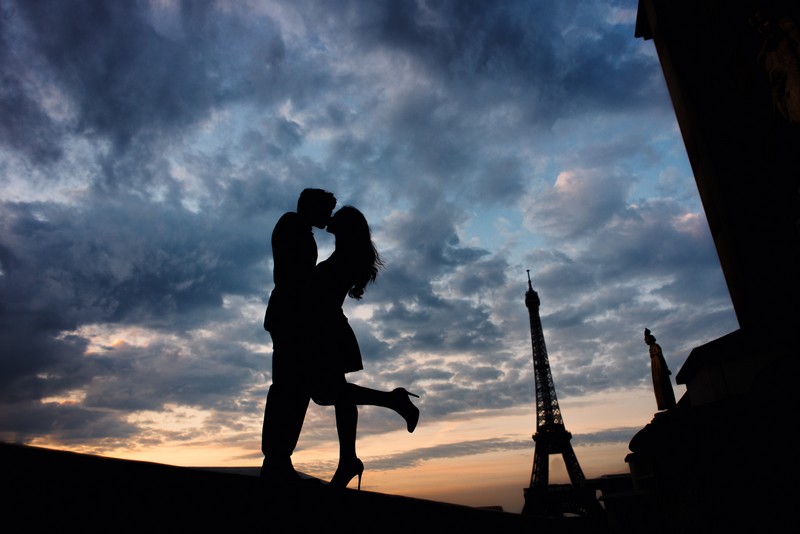 The most flattering light is early in the morning and late in the afternoon. Obviously, being one of the most touristy city in Europe, Paris is crowded later during the day. This makes the sunrise spot the most popular starting time. This is the reason why we privilege multi-hour bookings for the sunrise spot. In the afternoon, we recommend locations that are more private and less crowded.
A great resource to check the sunrise and sunset times for your travel dates is TimeAndDate.
Our night photos are taken after sunset. We recommend starting 1 hour before the sunset to take advantage of he golden hour and continue after the sun sets during the blue hour, while the sky stays deep blue.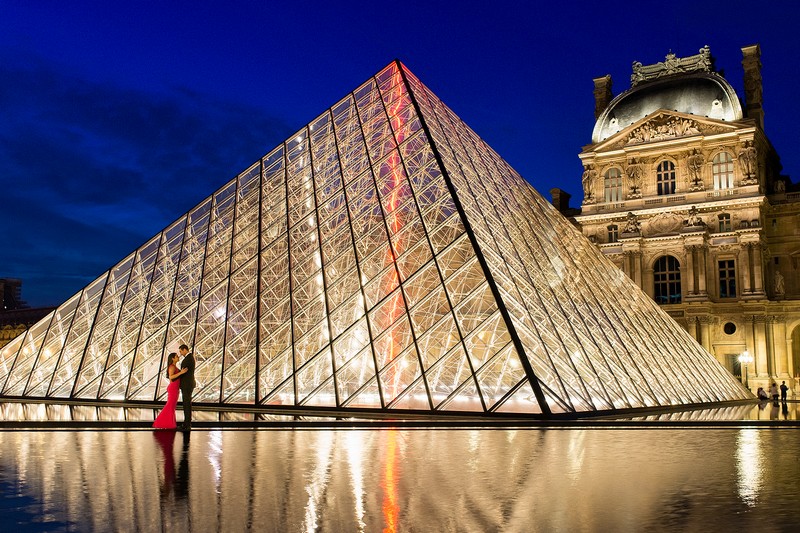 What locations are the best for a Paris photo shoot ?

Paris is a city where you'll find yourself wrapped in culture, elegance and style. The city of lights is rich in locations and you should chose those that feel right for you as a couple. Below, you will find our most popular choices and if you wish to learn more about all the beautiful locations where magical photos are taken and when, the please check out our Locations Guide.

Eiffel Tower – Trocadéro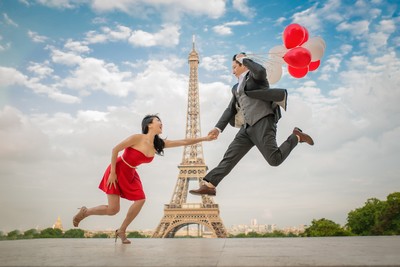 Eiffel Tower – Bir Hakeim bridge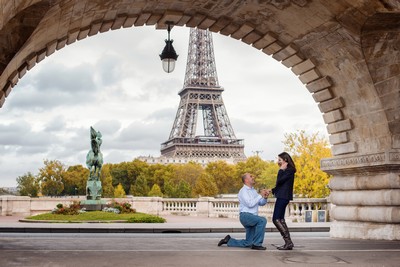 The Tuileries Gardens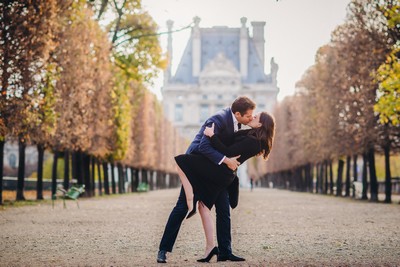 The Louvre Museum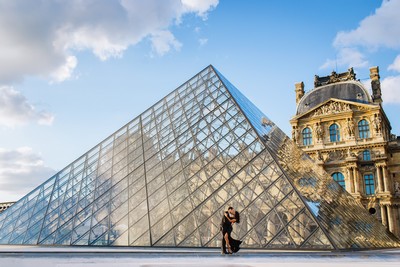 Alexander 3 bridge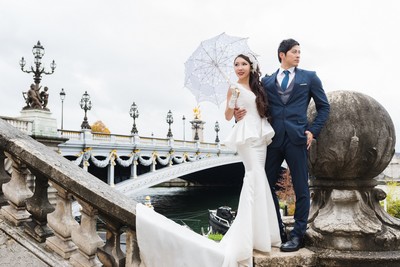 Notre Dame (Ile Saint Louis)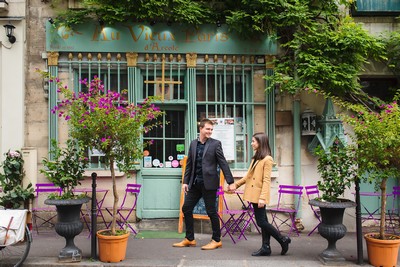 Montmartre – Sacre Coeur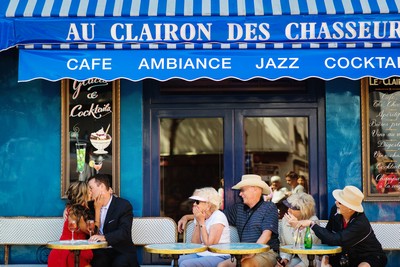 A typical Parisian Café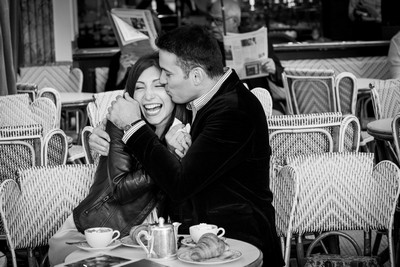 What do you recommend to wear during our photo session ?
We highly recommend colorful attire as strong colors look great in photos. But if black is your thing, then keep it elegant. Formal attire can be interesting but not required. However, dress to impress.
How many times can we change outfits and where can we change ?
If you'd like to spice up things and add diversity to your Paris photos, then we recommend one attire per location. Our clients usually change during our strategic brakes in a parisian café between locations. For longer photo sessions (3 hours and more), we recommend to book a private car that you can use for your wardrobe change.
Props
Props can take your photo session up a notch and give it that little extra thing which will make your photos unique. Our all time favorite props are balloons. Colorful, black and white, small, large, whatever you like the most.

We warmly recommend our friends from Mille Fêtes for your balloons. They also deliver to your hotel, but please check their opening hours before you decide to visit them.

Other props can be champagne, cotton candy, macarons and anything else that incites your imagination. We can provide the letters that spell LOVE, some heart and the red umbrellas that you can see in all our photos.
Inspiration
The inspiration process is the last step in our preparation process. This where we will ask you to create a Pinterest board and pin the images you like the most and would love to create together on the day of your photo shoot in Paris.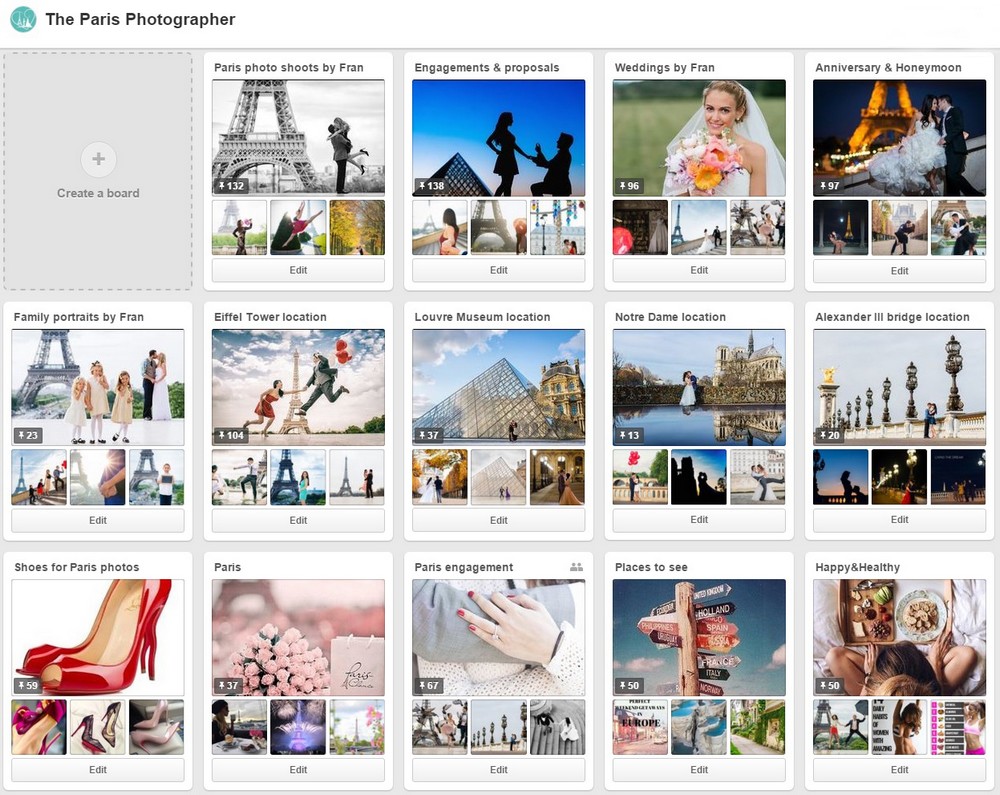 We understand that every couple is different and that although you like our style, you want your photos to be unique and matter to you as a couple. Some of us like more the romantic pictures, while others are fans of fun photos. Whatever your taste is, we are flexible and will work together to get the photos you want.
Get in touch !

You are ready to move forward. To check our availability and to get more information about Paris photo sessions prices, get in touch !