What makes a great Paris Photographer
Have you ever wandered in a big city by foot without a map and at one moment felt that you have absolutely no idea where you were ? You knew the direction in which you were heading, but had no idea what street to take and exactly where to turn right or left. Then suddenly, you started to feel that you should go in a specific direction. You didn't knew why, it just felt right. By following that path you were able to get to your destination by discovering new places and experiencing unbelievable things.
For me, it is kind of the same thing with being a good Paris photographer. Sometimes I don't have a clue where I am, but I know that becoming a great Paris photographer is what feels right as my destination. This article is not about Paris photographers as Eugène Atget, André Kertész or Henri Cartier-Bresson, but about portrait photographers who are working by passion to make couples from all over the world look stunning in the city of lights.
As I learned about photography and I started working with couples, I noticed that it takes a whole lot of things to be good at and these are not necessarily related to photography. Progressively I started to lay out what became my guideline to what it takes to be a great Paris photographer:

1. Connect with the couple. Making sure you talk to the couple on Skype before the photo shoot date. It allows you to get acquainted and let them discover your great personality. Take a few minutes before the photo shoot to explain how it will unfold and put them at ease, be friendly and kind.
2. Make sure to emphasize the beauty of every couple. Remembering that every couple is special, it is up to you to find that special thing !
3. Prepare the photo session, most of the sessions preparation takes place beforehand by e-mails. This was an aspect that I almost ignored in the beginning, the discussions with the couple only revolved around what time and where to meet and what locations to cover. Preparing a Paris photo session takes a lot more than that, it involves knowing exactly what the couple wants and working like a team for the inspiration of what the outcome of the session will be. I learned that every couple is unique and everyone wants something slightly different, even if that's not expressed clearly in the messages we exchange.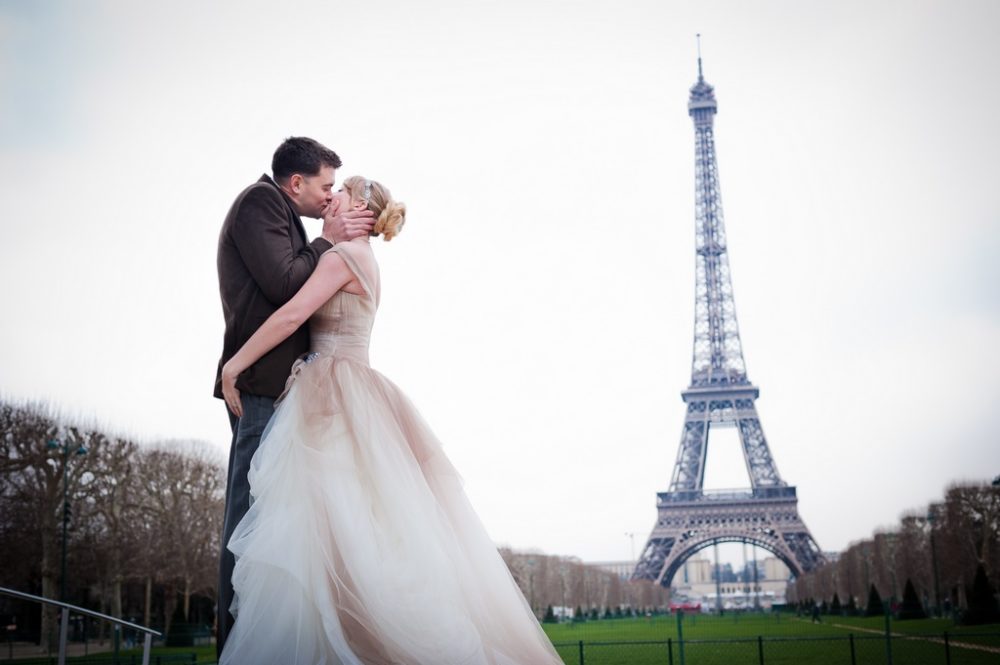 4. Decide on the exact locations for the photo session beforehand. The preparation of the photo session requires to know exactly in which locations you will go, so discuss and decide on the itinerary for the day of the shoot. Know exactly in what locations you are going but be open for spontaneous and creative poses. Sometimes, great pictures come up between locations.
5. Be ready to do different things and getting in uncomfortable positions to obtain fresh and diverse perspectives. Your goal should be to get different pictures, so find higher places to climb to and get on the floor to have a lower point of view.
6. Put passion in everything you do. Your couples will appreciate your effort to get THAT PERFECT SHOT and they will be more motivated and enjoy working with you.
7. Get feedback from couples during the photo session and listen carefully to what they have to say about how they perceive themselves in the photos. When we are looking at a portrait of us, the first things we notice are the negative elements. By listening to the couples feedback (especially HER feedback, as women have an acute aesthetic sense) you'll be able to correct unwanted elements early during the session and come back with really stunning images.
8. Make sure your couple is comfortable with the poses they adopt and comfortable physically during the shoot. The Paris photo session requires walking and standing for long periods. Make sure you are taking pauses between different poses allowing them to relax. Encourage them to enjoy the city, because the places where you go are romantic, especially during sunrise and sunset and such beautiful moments need to be really enjoyed. So relax and allow your couple to have a meaningful Paris photo experience.
9. Have a goal for every photo shoot. Coming home with at least 3 pictures that you are proud of. Don't finish until you have them.
10. Know what to do in case of bad weather. The weather in Paris is so unpredictable, it can be sunny one day and rain heavily the next. Either way, it is a charming city and as a great Paris photographer you should be ready for every situation. To tackle the weather you have two solutions. Either you keep your schedule flexible, to be able to reschedule the photo session an other day. Or you decide with the couple on indoors or covered locations.
This guideline evolves along with my Paris photographer skills, so I'll update it regularly. If you think there are other aspects that should be considered in what makes a great Paris photographer, hit me with a message or let's chat on Skype: fran.boloni. I would be happy and thankful to hearing from you.
The following two tabs change content below.
Fran Boloni is the Paris photographer with an incredibly creative eye a photographic style described as: real and fun. He is passionate about beauty, arts and connecting with people. Fran got recently engaged and he is super happy !