Paris engagement inspiration – Par and Amir
Posted in by Fran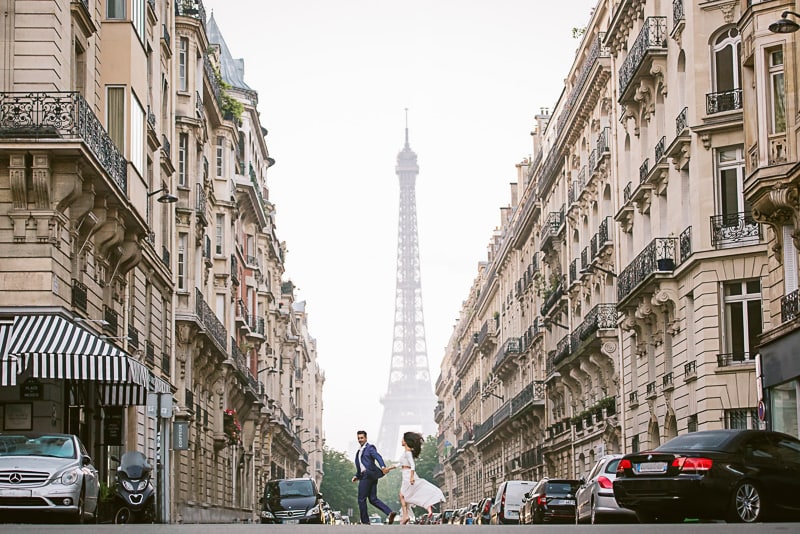 Par and Amir are a beautiful couple from California, US. He proposed in their new home, with beautiful purple balloons in a heart shape and huge MARRY ME balloons, and an incredibly gorgeous diamond ring.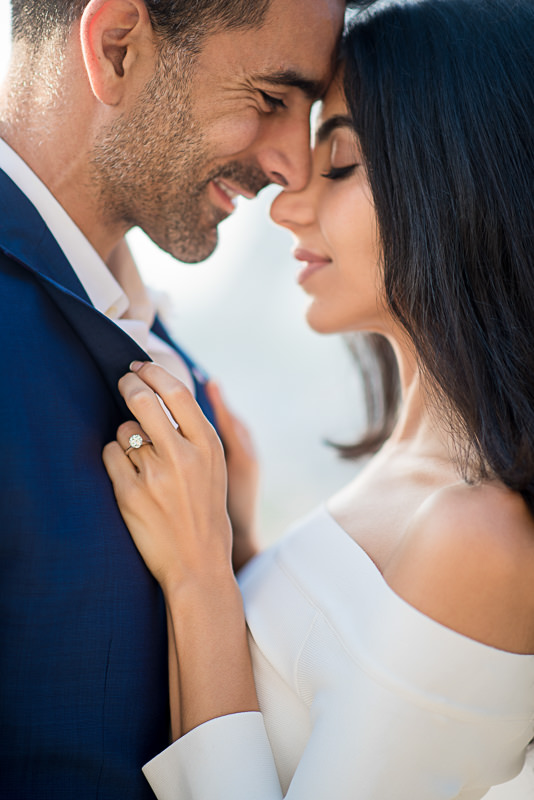 They have been best friends in college and after 10 years got engaged. Built their relationship on a foundation of compliments.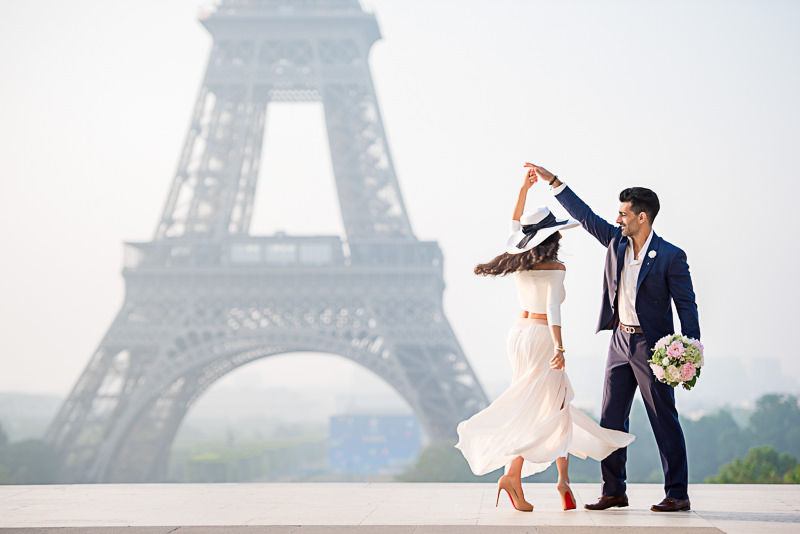 Par: "Amir makes my heart sing because he nurtures my dreams and loves with all his heart. He is my confidant, my safe place, my best friend."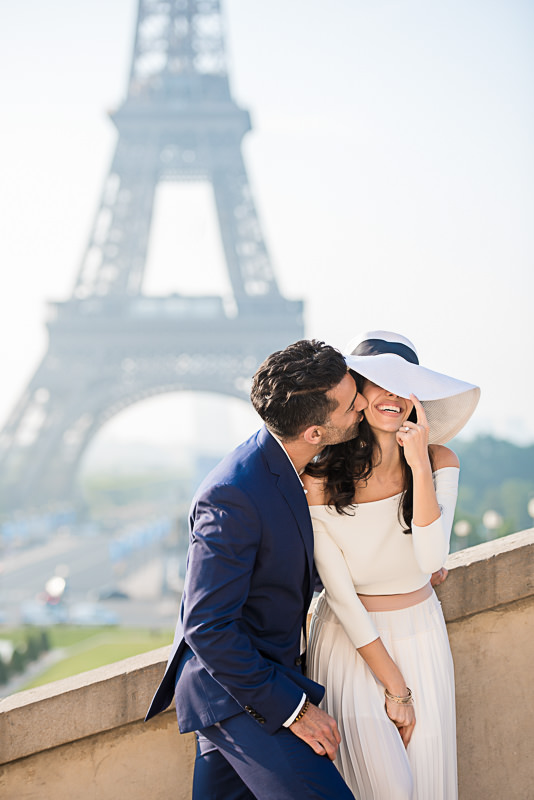 When Amir wrote me to take their engagement pictures in Paris, he attached their surprise proposal video. It was so sweet and romantic, I instantly knew that we will be a perfect fit.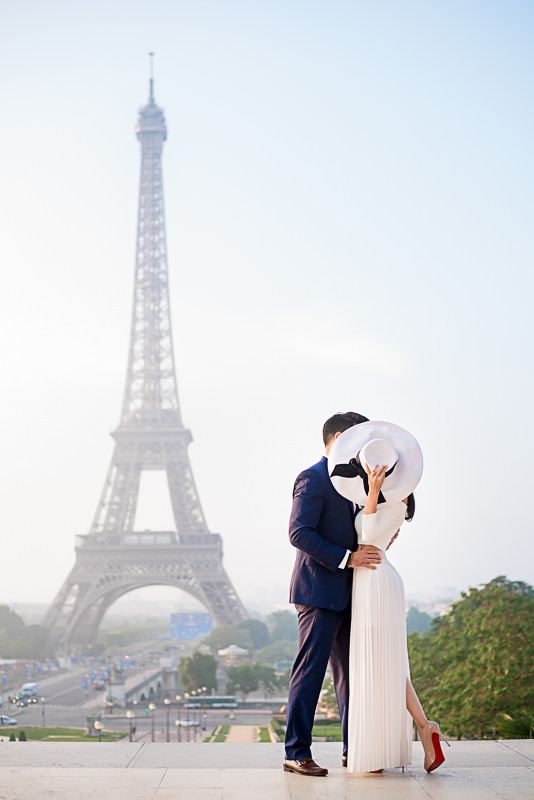 One can tell that he is deeply in love with her fiancée: "For me, Par is the architect behind my happiness, the creator of my future. This is the reason why we have lasted through so much, for so long. This is the reason why we are here to stay, forever, as one."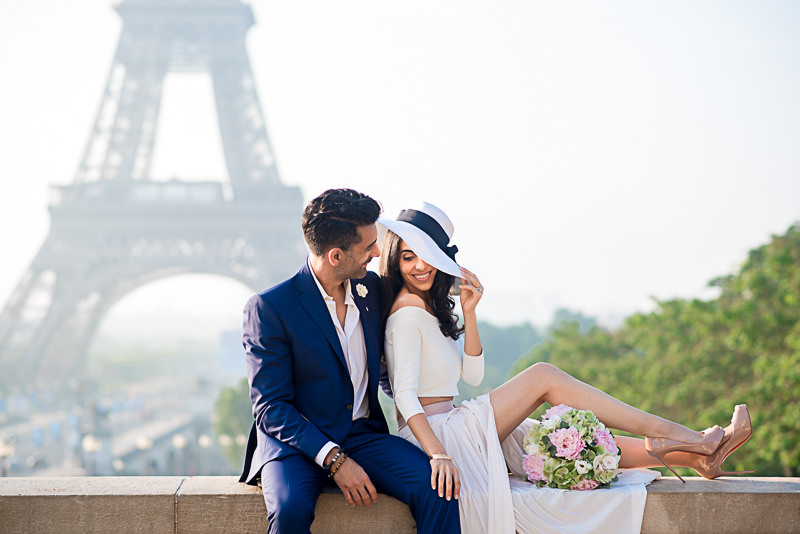 Par and Amir opted a 2 hours sunrise and 2 hours evening photo session. We have started the engagement photo shoot in the streets of Paris at sunrise and then explored Trocadéro area, which offers a spectacular view over the Eiffel Tower.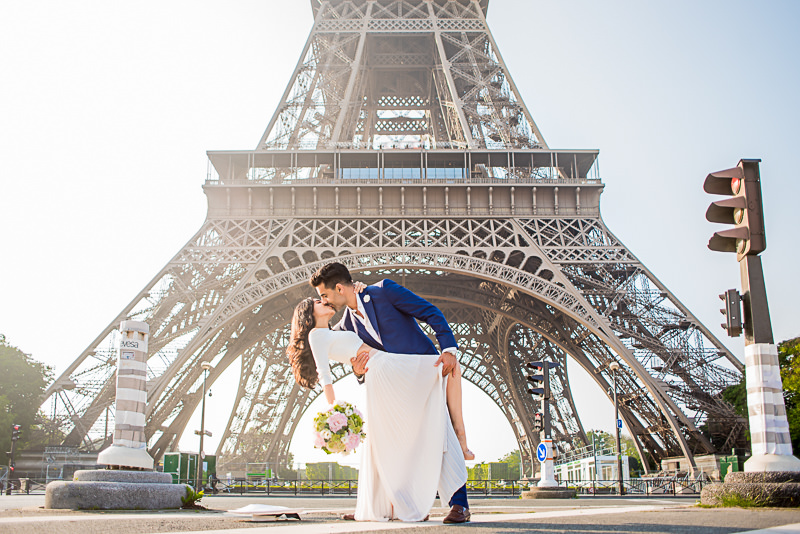 Par decided to use a white hat and a beautiful bouquet that they have picked up the evening before their photo shoot as props. One of my favorite picture from this morning was the one where she is hiding behind the hat and he is kissing her. This happened at a typical Parisian café where we stopped to energize with a delicious cappucinno and croissants.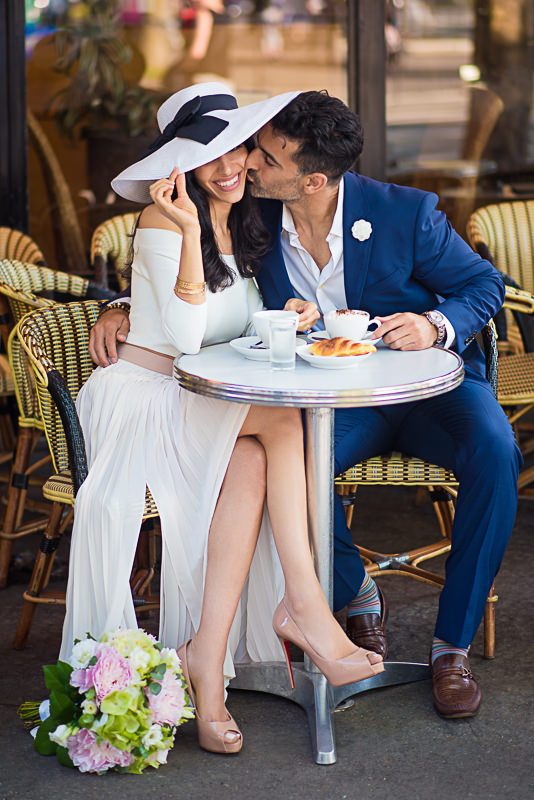 Quick tip for your Paris photos, always remember to take a parent pleaser or a grandma shot, that your parents or grandparents can frame for their home.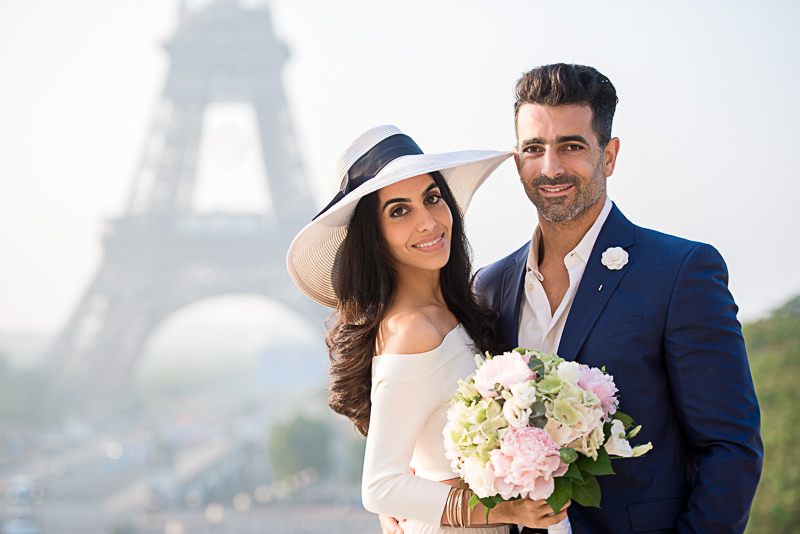 From the café we jumped in a taxi and stopped at the Arc de Triomphe. The sun was already up and shinning and seemed like the perfect opportunity to create a romantic sunstar picture.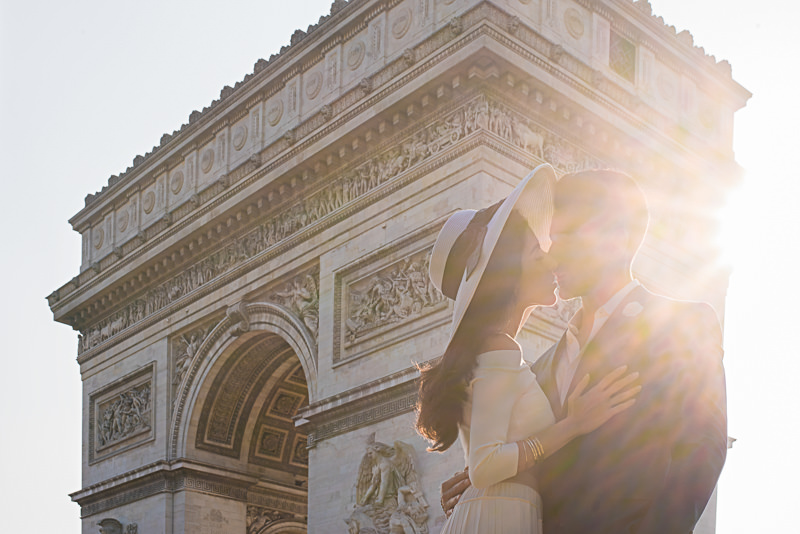 It might sounds like a cliché, but it was such a pleasure working with a couple that connects perfectly and truly enjoys the experience. That is why I strive to demonstrate my love for the couple and for my craft:photography in the same time.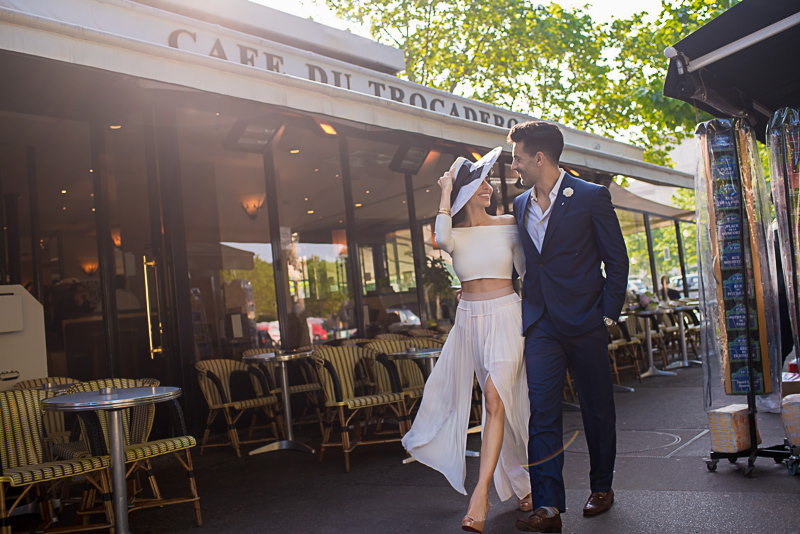 Let me put it in the couples' words:
The challenge was to find a photographer we could connect with; one who would allow the emotions to flow, but guide us. Frans' artistic capabilities and ingenuity were eye-catching, but his love to provide us with photographs which not only captured our emotions, but our story was extra-ordinary. This is what surprised us the most about our engagement photo shoot; how fortunate we were to find the perfect photographer. The outcome was far more fulfilling than what we could have ever asked for…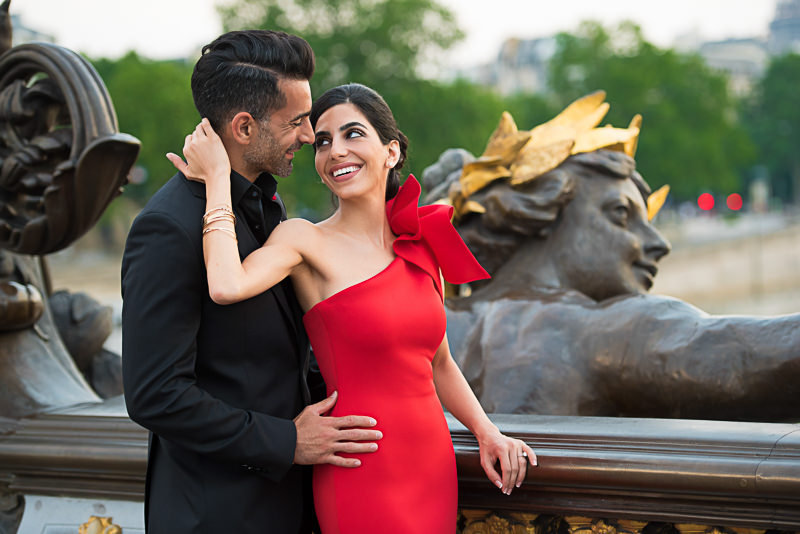 We resumed the engagement photo shoot on the Alexander 3 bridge, a few minutes before sunset. If you don't know what to wear for your engagement photos, look at Par's dress. It truly is inspirational.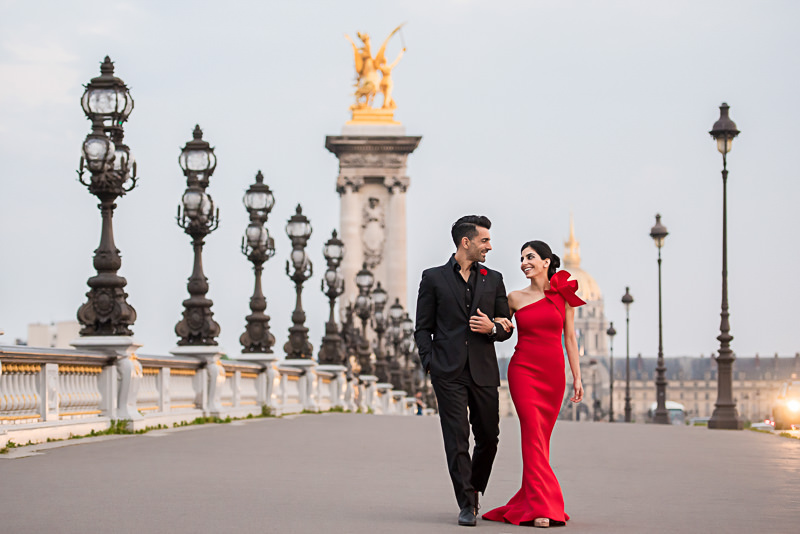 Paris tends to be crowded in the afternoon and we were constantly admired by passing by tourists. Nevertheless we had fun.
It must be said, the part we found most enjoyable was the opportunity to connect and laugh with each other, the opportunity to segregate ourselves from our lives as we know it and play in our love for one another… This transient state was priceless. For a day, It was only Par and I…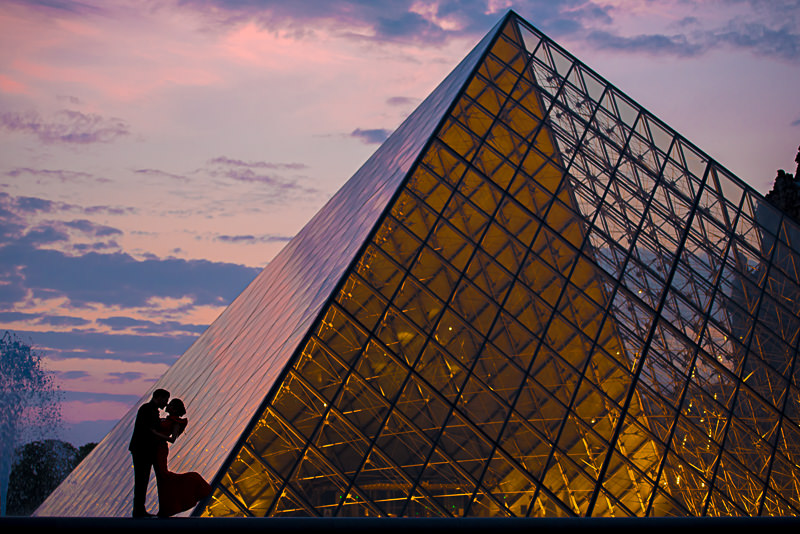 For Par and Amir, the experience of taking engagement photos in Paris was an adventure of a lifetime. We created memories and captured moments that they will cherish forever. The photos walk you through their LOVE.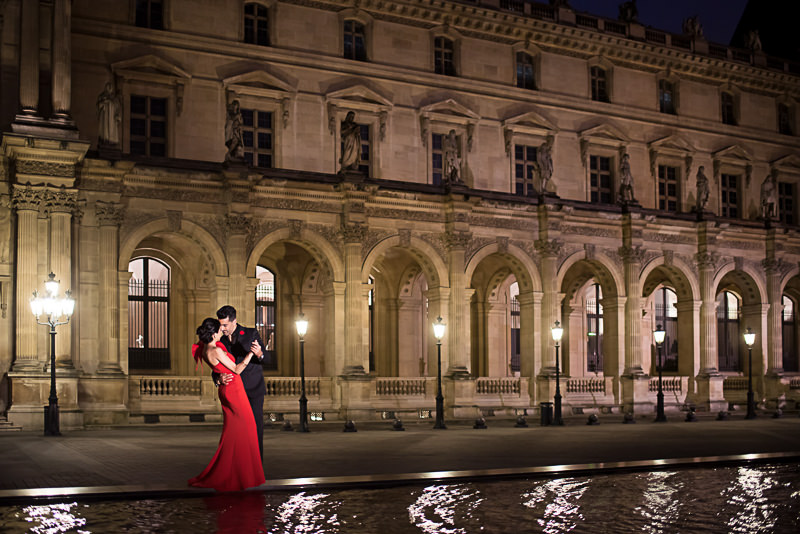 This Paris engagement is a true inspiration for many other stylish and fashionable couples who decide to take their engagement pictures in Paris. And not only for them, but for any couple in love who wants to have truly beautiful photos. Our friends from Cake and Lace loved the gallery so much that they have featured it on their blog.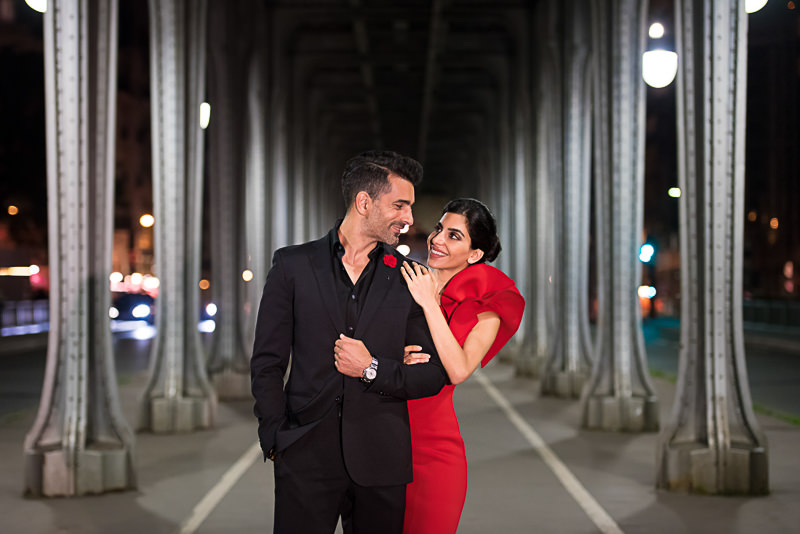 Here is a fun fact. While I am writing this article as a Paris engagement inspiration, Amir's email just came in informing us that they have decided to hire me to capture their wedding day in Laguna Beach (CA) next year in July. I am so excited !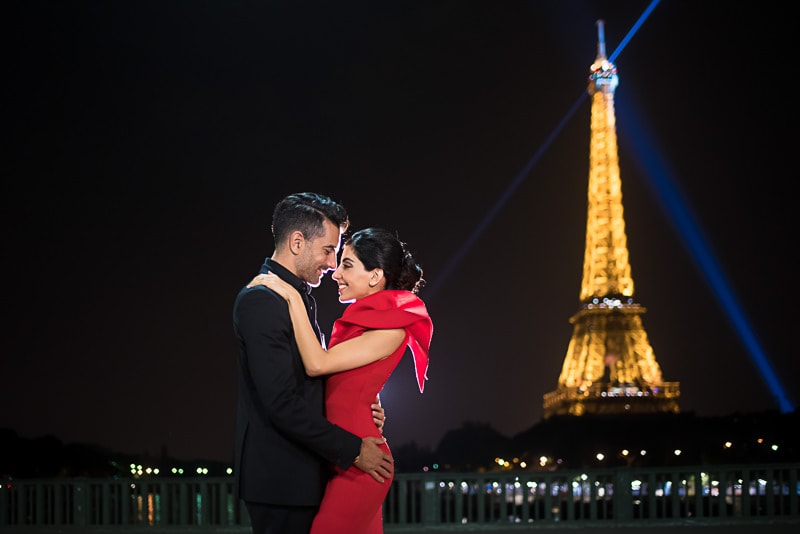 We ended the evening on the Inception bridge, having the Eiffel Tower lit up in the background. This is where Amir took a champagne out and popped it to celebrate their engagement.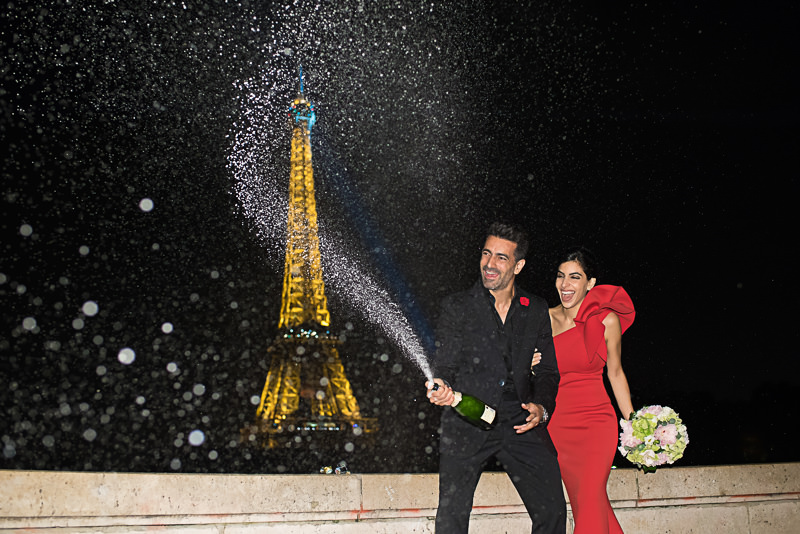 Hope that you liked the photos and enjoyed Par and Amir's love story. I am looking forward to having you on board and create magical pictures together in Paris.
Hugs,
Fran
PS: There are more Paris engagement inspiration images in the gallery below. I'm sure you are going to love them.
The following two tabs change content below.
Fran Boloni is the Paris photographer with an incredibly creative eye a photographic style described as: real and fun. He is passionate about beauty, arts and connecting with people. Fran got recently engaged and he is super happy !