Best places to take photos in Paris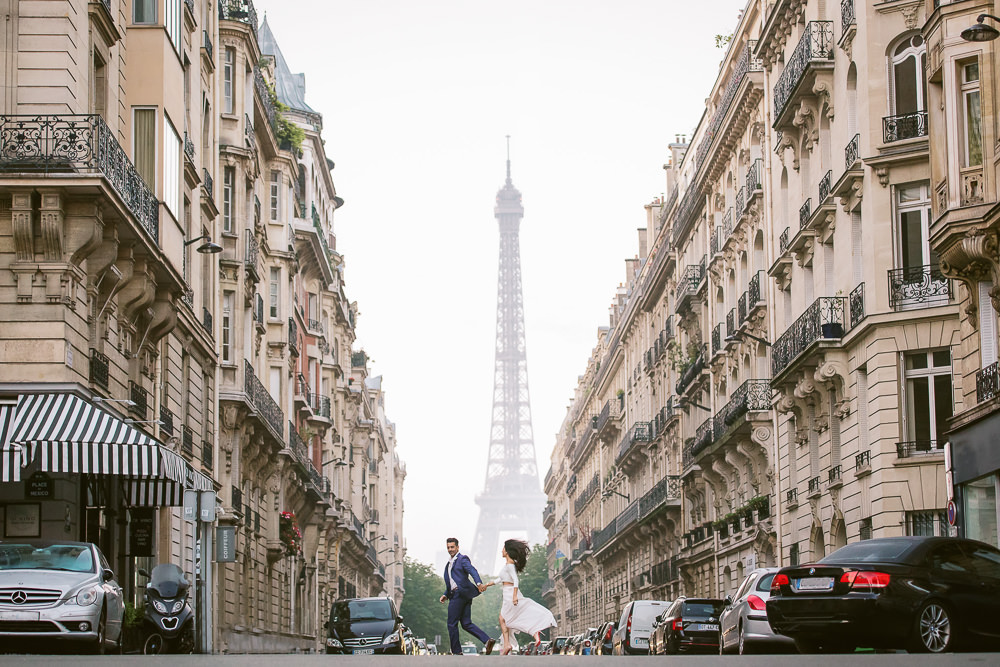 This guide has the purpose to help you choose the locations that you like the most for your upcoming photo session or wedding in Paris. It contains iconic landmarks and less known places. We are going to show you how the different places look at different times of the day and seasons and we are going to visit some of the popular outfits and props for each location. Let's get started !
Eiffel Tower – Trocadéro view

Probably the most wanted place for couples photos. The terrace like look offers a splendid view over the Iron Lady.
Time of the day
The quality of light is equally nice in the morning as in the afternoon. During winter months, the sun rises behind the Tower creating a very flattering backlight. Given that it is one of the most iconic spots in Paris, it is obviously one of the busiest places during the day and especially at sunset. That's when the people gather to watch the sunset and the Eiffel Tower lighting up. So night photos can only be taken during low tourist season, from October until April.
Season
It looks beautiful in every season. During winter though, the light is magical.
Outfits
It is really a matter of taste as the Eiffel Tower looks great with all kind of outfits. We generally recommend colorful attire and to avoid stripes. While some couples prefer formal clothes, a casual look will also look stunning.
Props
A colorful umbrella would be our first choice, especially one that matches the color of your fancy shoes. But Fran's all time favorite props for the Eiffel Tower are colorful balloons. Balloons are fun !
If it is windy, then balloons are probably not the best idea.

Bonus
If you do not wish to spend too much time at Trocadéro, you can walk to the Merry-Go-Round (Carousel) and to the River Seine for a closer view on the Eiffel Tower.
Eiffel Tower – Bir Hakeim
You probably recognize the bridge from the movie Inception. While it doesn't offer quite the spectacular view as Trocadéro, it is our go to location for busy summer afternoons.
Time of the day. Season.
It looks beautiful throughout the day and regardless of the season. The view however is spectacular at night from the bridge. This is why the Bir Hakeim bridge is our favorite Eiffel spot for night photo shoots. The advantage of this location over other Eiffel Tower spots is that the bridge itself is beautiful as a backdrop. Geometry, architecture and symmetry, it looks gorgeous.
Outfits
It is frequently windy over the River Seine, so make sure you are wearing a flowy dress for a dramatic effect.
Props
Champagne can be an interesting prop for this place. You can use it either to have a few photos while celebrating (your engagement, anniversary, etc) and sipping on a glass of champagne or if you are adventurous, you can go for a killer Champagne shower. Best moment for this kind of photos is at night.
The Alexander 3 bridge

One of the most beautiful bridges in Paris. Alexander III bridge is (a little bit of history).
Time of the day
This location is in an open field, so it is well suited for both morning and afternoon photo sessions. Obviously there are considerably more people in the afternoon, especially in the evening, as the Alexander 3 bridge offers the most beautiful sunset view in Paris. Perfect spot for creative silhouettes. In the morning, particularly during summer, the bridge is not crowed at all, as Parisians start their workday around 9AM.
All to say, the Alexander 3 bridge makes for a perfect second location for morning photo sessions and the ideal sunset location. It is also very close to the Eiffel Tower.
Outfits
Any outfit works well for the Alexader 3 bridge, it is really a matter of taste and logistics, so that you can have variety in the looks for your photo shoot.
Props
Probably umbrellas and balloons would be good props for this location.
The Louvre Museum

After the Eiffel Tower, the Louvre Museum is probably the most requested location for couples pictures in Paris. The beautiful architecture makes for an elegant backdrop while the Louvre Pyramid offers a modern twist to your photos.
Time of the day
It is one of the most visited places in Paris, so in order to have touristless pictures, it's better to be there at sunrise. However, the most iconic images are made during the blue our and at night. It's just something magical about this place.
Season
It looks beautiful in all seasons.
Outfit
Formal attire would probably more appropriate than a casual outfit. And for night photos, choosing the perfect dress for a dramatic look, it is really a matter of imagination. Because it is the most popular spot for night night photos, we suggest to wear something warm during the winter months.
Props
The rich architecture doesn't require any props, so we would skip them for this location. It already looks gorgeous.
Tuileries gardens

The iconic Parisian garden situated between Place Concorde and Louvre Museum is a beautiful natural environment.
Time of the day
It looks great both in the morning and in the afternoon.
Season
It loos gorgeous between April and November and it is spectacular from late October until early November when the trees become colorful.
Outfit
Casual outfit would probably be adequate for a romantic stroll in the park.
Props
We would keep the photos simple and try to focus more on your connection than using fun props in Tuileries.
Notre Dame and Ile Saint Louis

One of the richest places in typical Parisian backdrops, featuring old Parisian buildings, cute streets, cafés and old bridges. Oh, and the Notre Dame cathedral! This area has them all.
Time of the day
It probably looks more beautiful in the afternoon, but there are just so many places to explore in this area that it can be a great choice even for morning photo shoots also.
Season
Although it looks nice in every season, summer months probably offer a more beautiful backdrop when the trees are still green and flowers are blooming.
Outfit
Playful and casual attire is probably better fitted for the spots around the River Seine and the cafés. For the elegant architectural backdrops it is better to wear an elegant attire.
Props
This location offers so much variety that props are in our opinion not necessary.
A typical Parisian café

We have two different scenarios for café photos. One of the frequent choice of our couples is to take a strategic break for an attire change, between two main locations. This fits a 2.5 or 3.5 hours photo shoots. Taking photos in a typical Parisian café can also allow for some fun "piece of life" pictures, where you can enjoying a delicious cappuccinno, coffee or hot chocolate and share a croissant or macarons.
Time of the day
We prefer mornings when there are less people around, especially around the iconic landmarks.
Season
During the summer months we stay outside and during the cold months we can take photos inside the café. There are also heated terracces so both options are available during the whole year.
Outfit
We recommend a casual and playful attire for the café photos.
Props
Sunglasses can be interesting props for the sunny mornings in Paris.

We are going to add a few more Parisian locations in the upcoming weeks. If you have any question, feel free to get in touch directly by email.