"This has been an unforgettable day for us. Usually, I am very shy in front of the crowd. I was afraid that when i was in the street with my wedding dress, everyone looked at me and I could not be natural. Finally, everything was going very well. Fran helped me overcome my shyness. He was very funny, he told us the jokes, he made us smile and then he recorded the great moments in his photos. We are very pleased with these pictures !" Thuy & Thanh
We started the Paris pre wedding photo shoot in Parc Monceau. This location offers a background with fantastic light and it is pretty quiet, perfect for the first shots when you are discovering the photographer and start connecting with him.
Although Thuy was a little bit shy, after a few pictures she was posing naturally and even proposing different poses.
Thanh was collaborating perfectly too, especially when he ran with the bride on his back for this cute picture.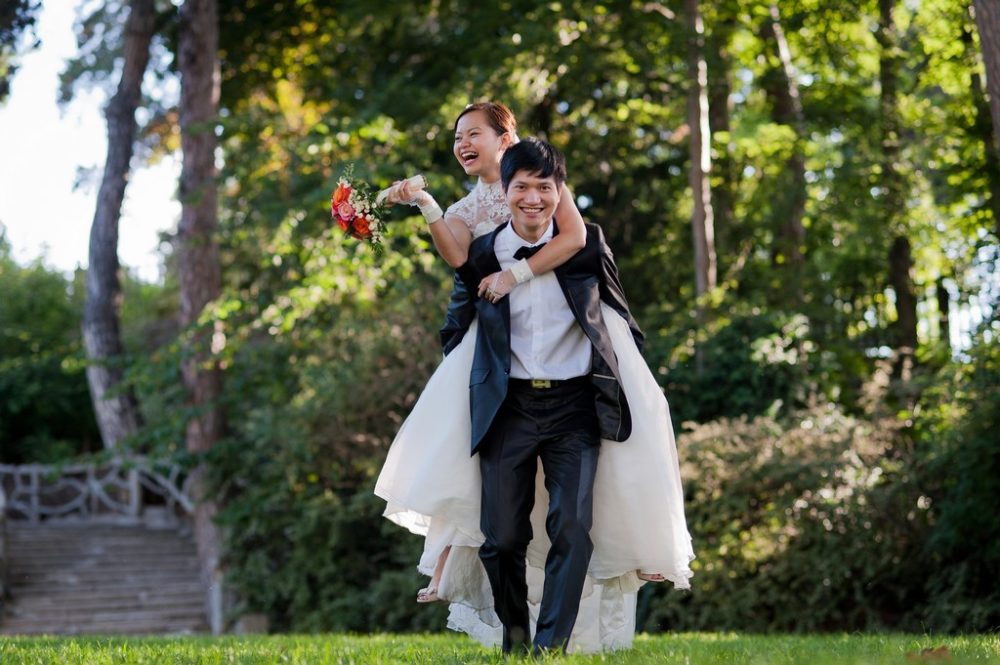 One of my favorite locations is Louvre's interior yard. The light there in the afternoon is very flattering.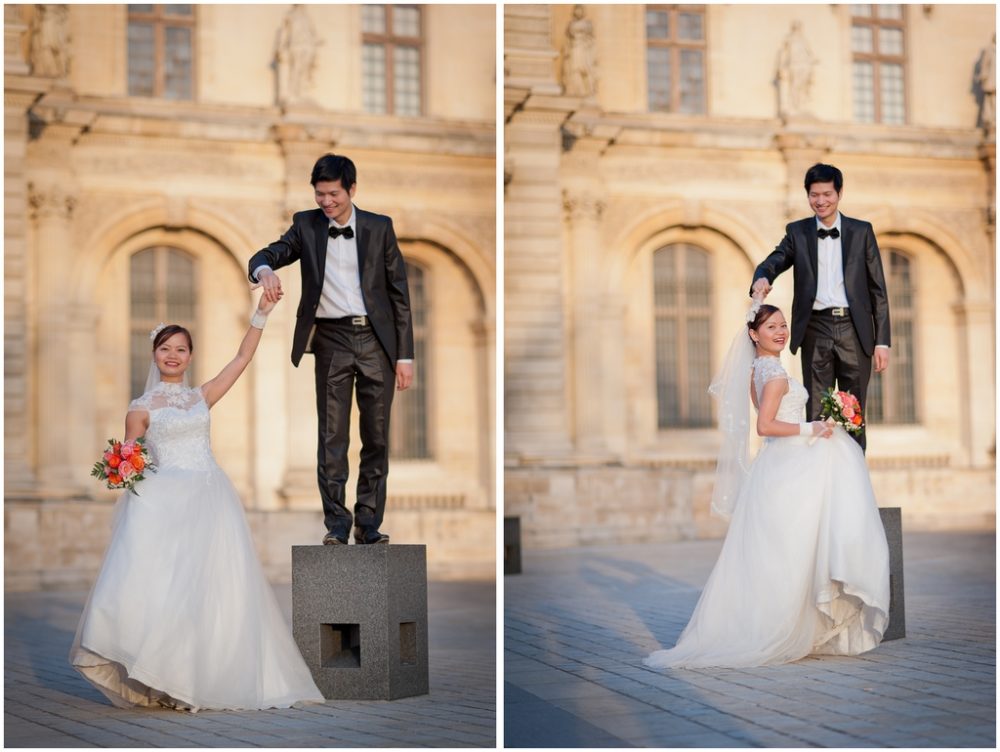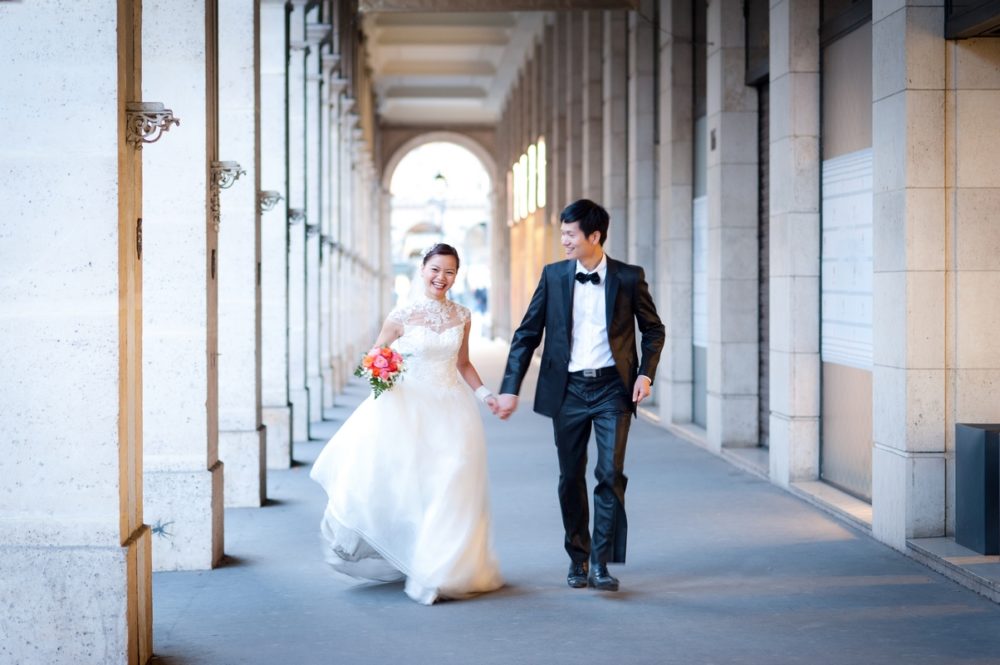 Just after the dancing pictures, we heard the violinist playing in the background and thought of including her in the image too. We were lucky enough to catch these fantastic sun rays pointing towards the couple. These unique elements (sun rays, violinist and the connection between the bride and the groom) make this image my favorite from this Paris photo session.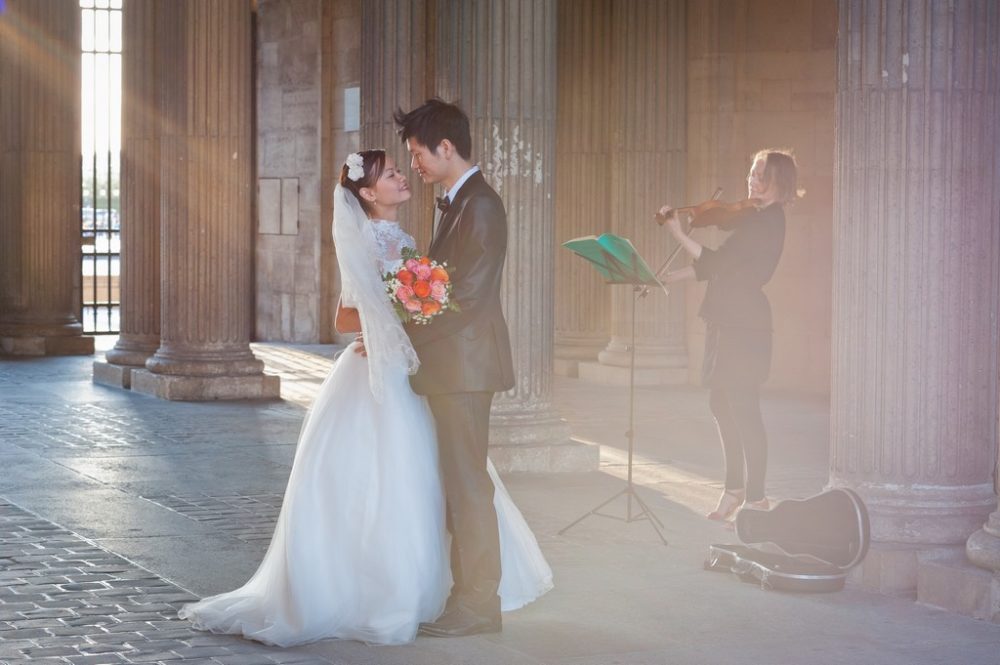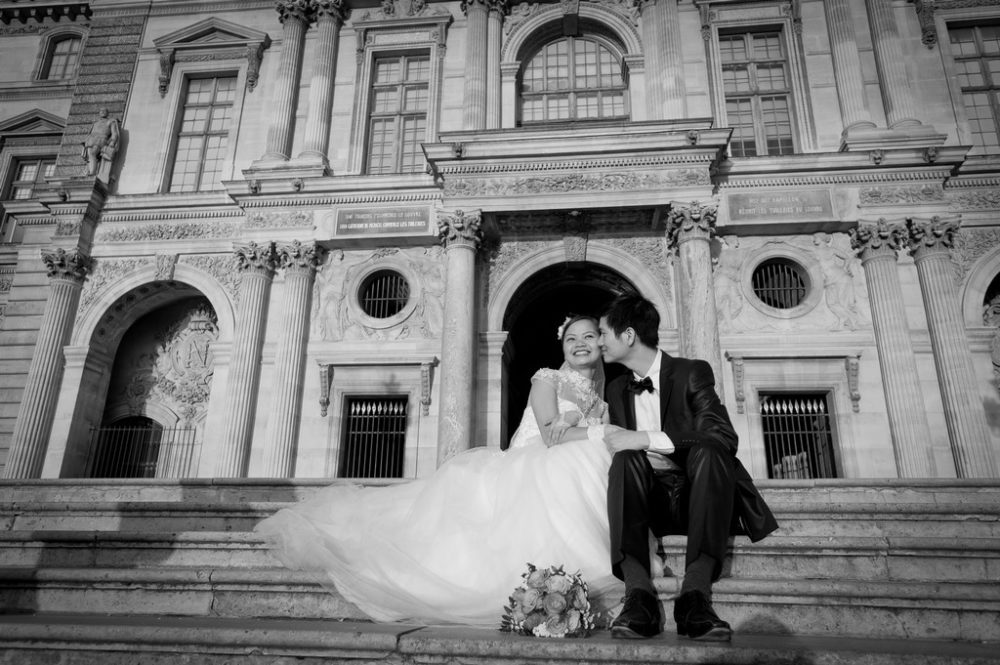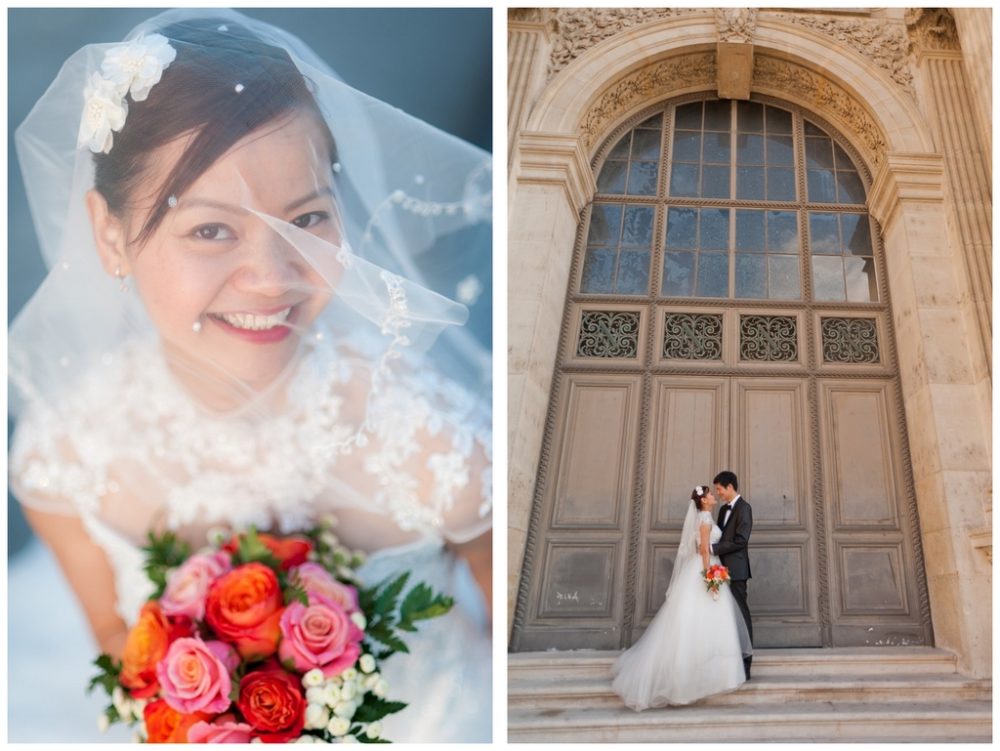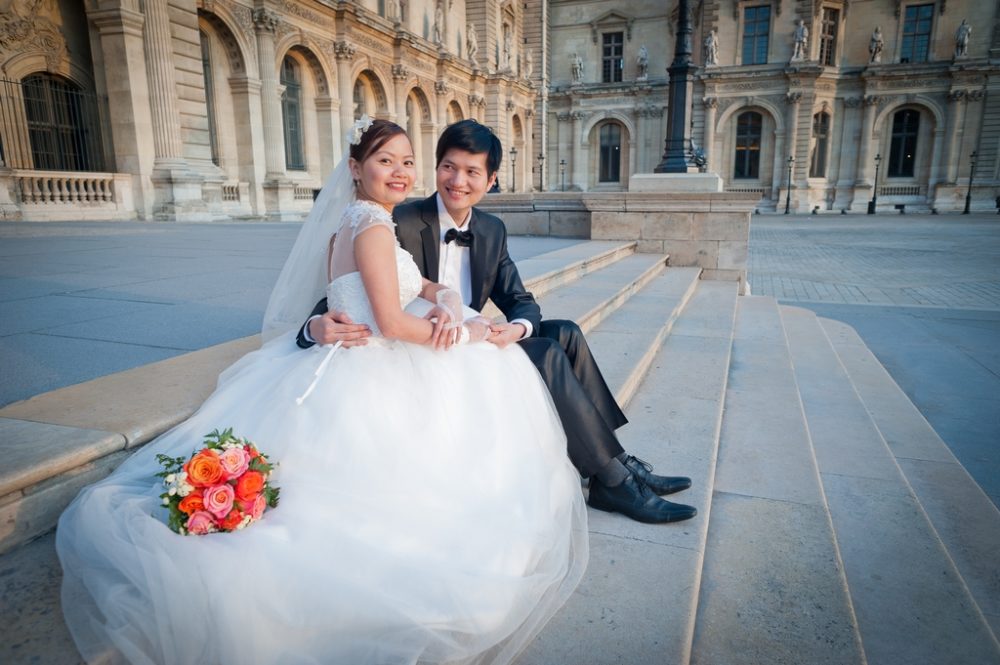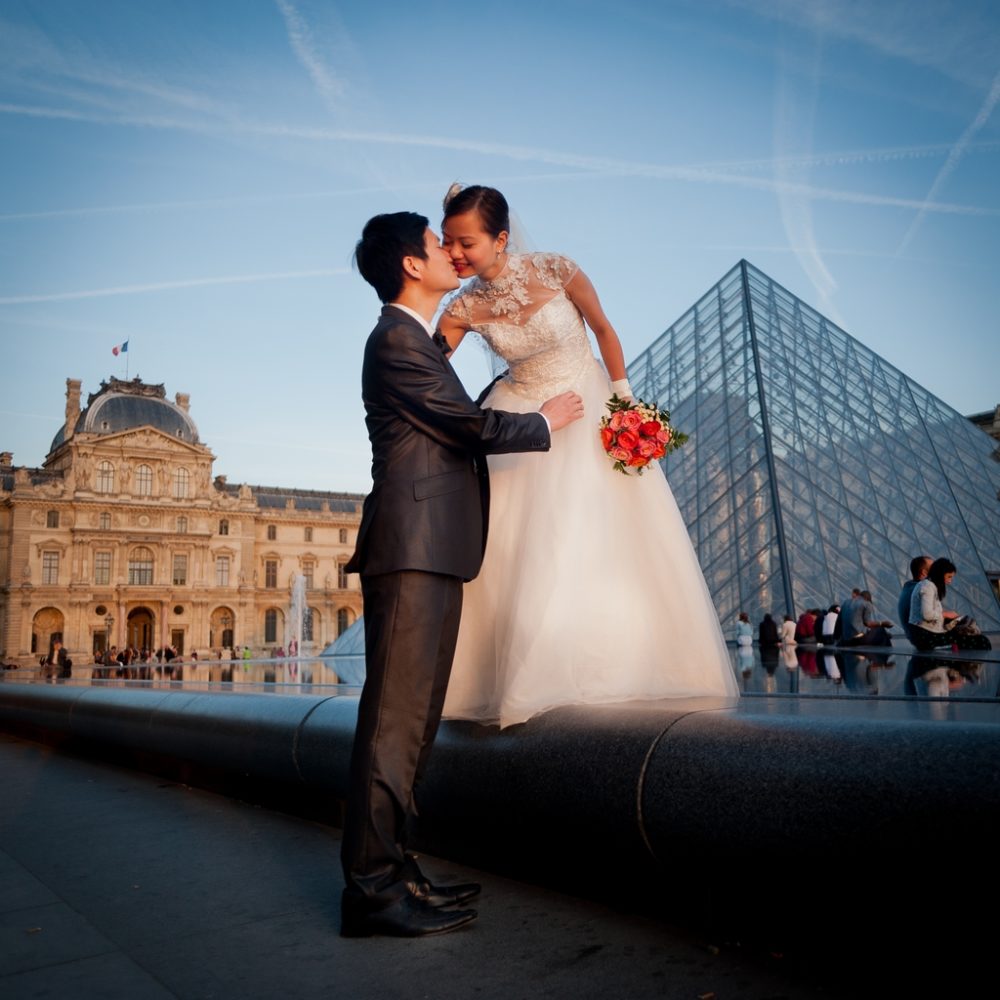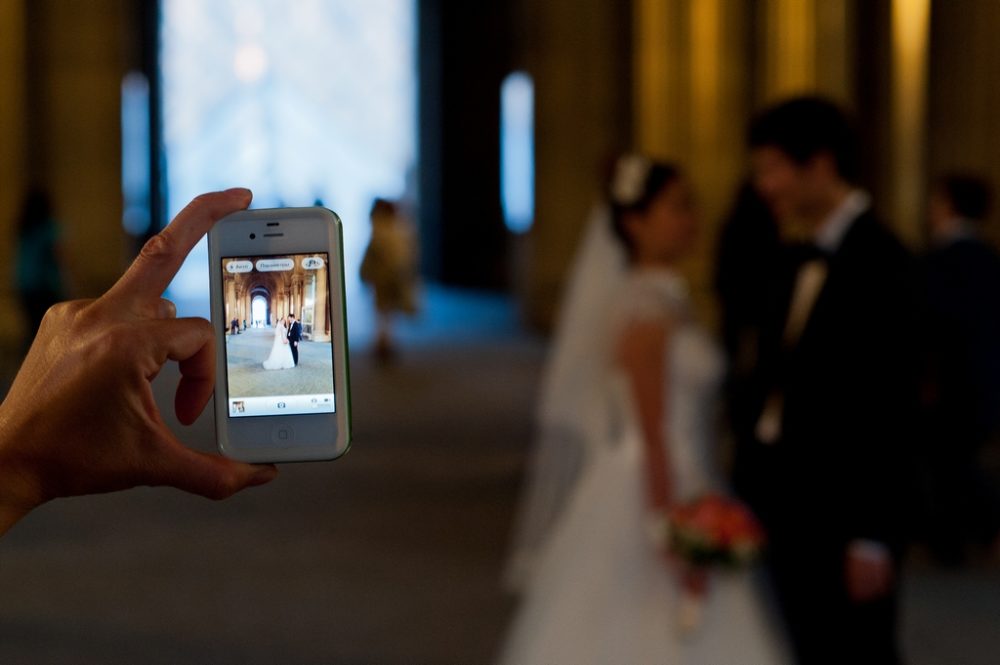 We headed afterwards to finish the photo shoot at one of the best locations for night photos: Moulin Rouge.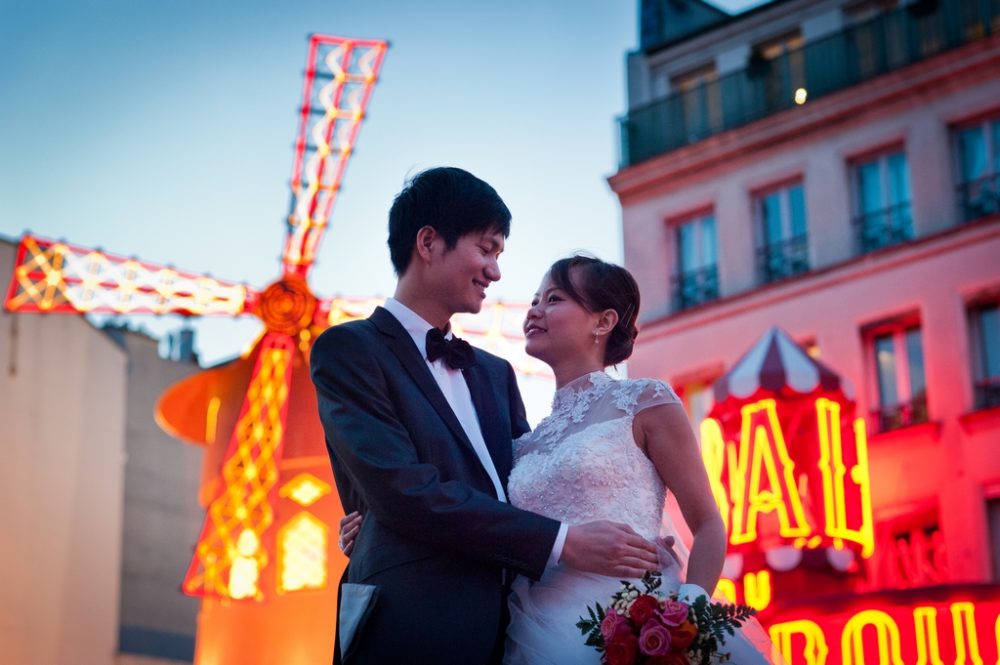 Props: soap balloons.
That unique thing: the photos we took during the Paris photo session made a huge blast on their projection during the wedding night.
Fun facts: At one moment, while preparing the bench shot in the park, a young man came and asked to take a photo with the bride and groom. It was the perfect opportunity to get a spontaneous photo so I kindly asked him to grab his friends and make a fun group picture.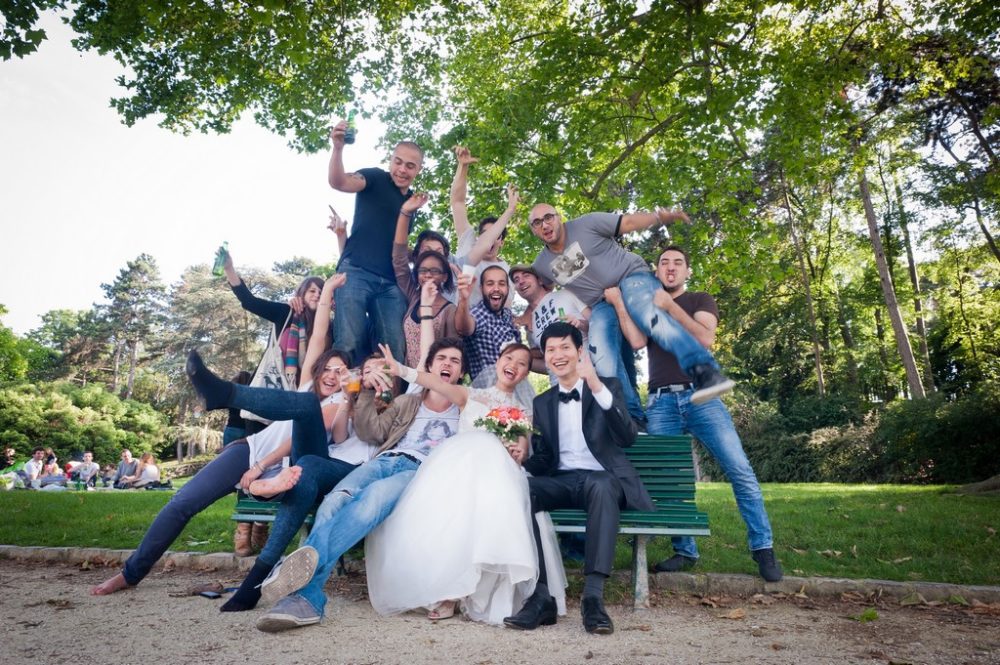 "In general, there are always too many people in the famous monuments in Paris (Louvre museum, the Eiffel Tower …), it's very difficult to have a quiet place to take the photos, but with the ability to speak to people, Fran asked for people to let us instead to take pictures. When we reviewed the photos, it seems that Paris was for both of us.
The most memorable moment for me is when we were at Moulin Rouge, Paris was lighting, it was so amazing, i feel so happy. A big thank you to Fran. We have a great album photos." Thuy et Thanh
Are you ready to book your wedding in Paris with Fran The Paris Photographer ?